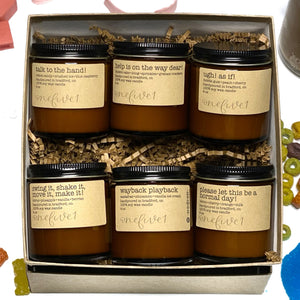 are ya ready kids? aye aye captain!
jump into some 90s nostalgia with us from your favourite treats, to saturday morning cartoons and everything in between!
& enjoy these scents while listening to the 90s playlist we've made, just scan the code on wayback playback and sit back and relax!

A curated box of 6 90s scents. These 4 oz jars are the perfect way to test out scents before you buy a larger size or a great gift idea! 

Scents include;
help is on the way dear!: funfetti cake • icing • sprinkles • graham
crackers
please let this be a normal day: lemon • cherry • orange • milk
*cereal killer
wayback playback: sassafras • cinnamon • vanilla ice cream 
ugh! as if! : bubble gum • peach • cherry
talk to the hand: cotton candy • crushed ice • blue raspberry
swing it, shake it, move it, make it!: citrus • pineapple • vanilla • berries
Why you'll fall in love with onefive1 candles
undyed, north American grown 100% natural soy wax. It is renewable and sustainable
natural fibre, flat braided wick resulting in a cleaner burning wick with no lead or zinc
made in canada
handmade and hand-poured in extremely small batches to ensure highest quality
Phthalate-free fragrance oil 
reusable jars, find another use for them once you're done
eco-friendly & family friendly
vegan & cruelty free
wax is grown without pesticides and contains no paraffin or petroleum
biodegradable & hypo-allergenic
30-50% longer burn time than paraffin candles
4 oz -25-30 hour burn
made with love

onefive1 soy candles are hand poured in small batches to ensure the best quality every time. Due to being handmade, each and every candle is different just like snowflakes. The wax may have variations in look and texture. This is a sign of pure soy wax, not a defect. If your candle has one of these variations, it is simply character of the candle and it will not affect the candles performance in any way. 


CANDLE CARE: 
For the first burn, it is important to burn the candle until the wax fully melts across the width of the candle. This will help extend the life of your candle and prevent tunneling. Always trim the wick to ¼" before lighting to ensure a longer lasting candle and a safer burn. For best results we recommend burning for no longer than 3-4 hours at a time. Burn times are approximate and an estimated time, not guaranteed due to many factors at play.