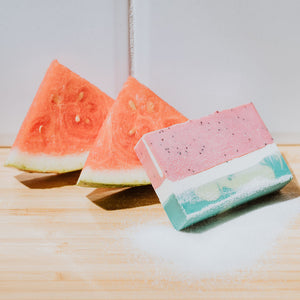 watermelon sugar: watermelon • honeydew • strawberry • sugar
4 oz | 120 g bar soap

how to: store in a cool, dark, dry place until ready to use. run hands under warm water, apply foaming hand soap to hands and rub together, rinse with warm water.
ingredients: olive oil, coconut oil, palm oil, distilled water, sodium hydroxide lye, avocado oil, mango butter, fragrance oil, caster oil, titanium dioxide mica pigment and poppy seeds
note:  do not ingest. If irritation occurs discontinue use.