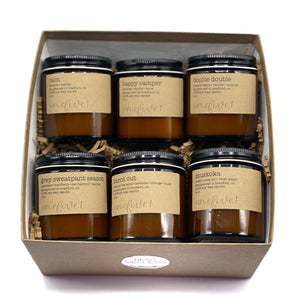 A curated box of 6 of our most popular scents. These 4 oz jars are the perfect way to test out scents before you buy a larger size or a great gift idea! 

now with the choice of which calm label! 
Scents include;
calm key scents: lavender • vanilla
happy camper key scents: caramel • vanilla • spice
double double key scents: arabica beans • vanilla • caramel
burnt out: tobacco • caramel • lavender • orange • musk
grey sweatpant season- cashmere• mandarin •sandalwood •vanilla
muskoka key scents: cedar•crisp air•fresh water
Why you'll fall in love with onefive1 candles
undyed, north American grown 100% natural soy wax. It is renewable and sustainable
natural fibre, flat braided wick resulting in a cleaner burning wick with no lead or zinc
made in canada
handmade and hand-poured in extremely small batches to ensure highest quality
Phthalate-free fragrance oil 
reusable jars, find another use for them once you're done 
eco-friendly & family friendly
vegan & cruelty free
wax is grown without pesticides and contains no paraffin or petroleum
biodegradable & hypo-allergenic
30-50% longer burn time than paraffin candles
8 oz 50-60 hour burn time

onefive1 soy candles are hand poured in small batches to ensure the best quality every time. Due to being handmade, each and every candle is different just like snowflakes. The wax may have variations in look and texture. This is a sign of pure soy wax, not a defect. If your candle has one of these variations, it is simply character of the candle and it will not affect the candles performance in any way. 


CANDLE CARE: 
For the first burn, it is important to burn the candle until the wax fully melts across the width of the candle. This will help extend the life of your candle and prevent tunneling. Always trim the wick to ¼" before lighting to ensure a longer lasting candle and a safer burn. For best results we recommend burning for no longer than 3-4 hours at a time. Burn times are approximate and an estimated time, not guaranteed due to many factors at play.