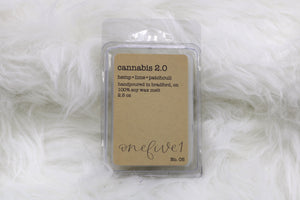 cannabis 2.0- you loved the original fragrance so much, we decided to extend the range.
This is a synthetic fragrance, this candle does not contain any THC.

An exotic blend of fresh green mandarin, aromatic cannabis, and exotic spices with base notes of cassia and patchouli.
key scents: hemp • lime • patchouli
Our wax melts are a great alternative to enjoying a candle but without the worry of an open flame! Each melt comes with 6 cubes.
Start with one 1 cube and place it in a wax melt warmer and enjoy the smell!
Why you'll fall in love with onefive1 candles
undyed, north American grown 100% natural soy wax. It is renewable and sustainable
made in canada
handmade and hand-poured in extremely small batches to ensure highest quality
Phthalate-free fragrance oil 
eco-friendly & family friendly
vegan & cruelty free
wax is grown without pesticides and contains no paraffin or petroleum
biodegradable & hypo-allergenic
30-50% longer burn time than paraffin candle

onefive1 soy candles are hand poured in small batches to ensure the best quality every time. Due to being handmade, each and every candle is different just like snowflakes. The wax may have variations in look and texture. This is a sign of pure soy wax, not a defect. If your candle has one of these variations, it is simply character of the candle and it will not affect the candles performance in any way.